Abyss Assistant
Premium
Verified
Status:
Past
Starts:
Ends:
05/16/2018
Team:
12 people
Whitepaper:
download
CRYPTO REWARD ECOSYSTEMFOR GAMERS DEVELOPERS
The Abyss is a next-generation digital distribution platform, delivering all types of video games (Free2play MMOs and cryptogames being a key priority),including AAA-titles, to the fast-growing global game community. Unlike other platforms (Steam, Origin, GOG, etc.),The Abyss offers a groundbreaking motivational and multilevel referral system, allowing gamers to earn from in-gameand social activities, and other gamers' payments as well. By joining The Abyss, developers will reduce their marketing expenses and receive an extra income from referral payments made in other games on the platform.

ABYSS Tokens: The Key BenefitsABYSS tokens are a priority internal mechanism for interaction on The Abyss platform. Earnings from referral and motivational programs are paid in ABYSS tokens. The majority of internal services rely on ABYSS tokens only

ACCESS
Motivational and Referral programs, Auction, Internal CPA Network and Syndicates rely on ABYSS tokens only.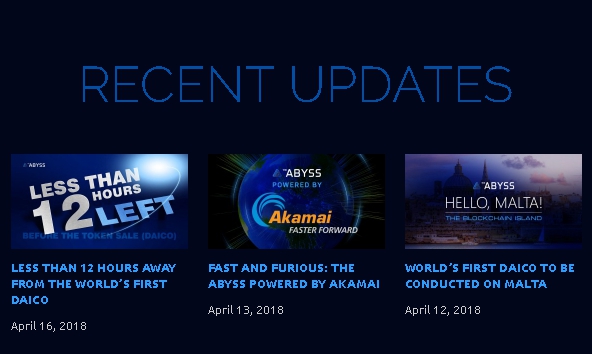 DISCOUNTS
Unlike fiat payments, when paying for game purchases with ABYSS tokens, users are granted a discount.

BURNING
1/3 of the platform's commission from the internal CPA network and the auction transactions will be burnt by smart contract.


Google Trends 2018
SimilarWeb Website Visits
SimilarWeb Traffic Sources
| | |
| --- | --- |
| | Token |
| Crowdsale | 40 |
| Foundation | 20 |
| Advisors | 21 |
| Reserve | 18 |
| Bounty | 1 |